Your Workplace Safety Partners
For over 25 years, the workplace safety experts at OECS have supported clients like you with industry-leading safety and compliance services. From developing a new safety management system and creating custom training plan to lending on-site support with OSHA audits, we're here to help. Build a safer workplace with OECS!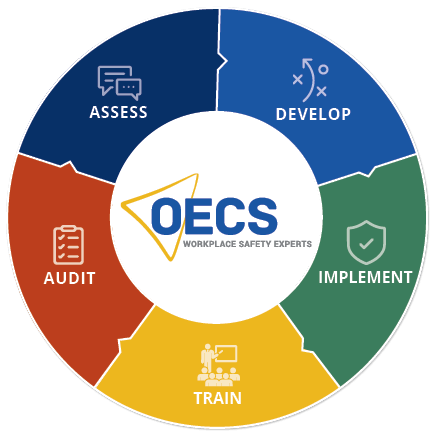 Peace of Mind Comes from a Proven Process
Here's how our consultants simplify safety in the workplace:
Assess. Our experts work with you to quickly identify your needs through audits, gap analysis, and stakeholder discussions.
Develop. We create a workplace safety plan designed specifically for your company's needs, goals, and industry requirements.
Implement. Partner with a professional for safety training, documentation, or help with an OSHA visit – 24/7/365.
Train. Onboard your employees through straightforward, engaging safety training presentations that add consistency.
Audit. We offer onsite audit support and proactively develop up-to-date strategies to keep you compliant.
"OECS has been a great addition to our plant safety program!"
Their staff has helped refocus the safety program, update monthly training and plant floor audits to eliminate hazards and create a new awareness of our current environment to keep our employees working safely every day. The value they add is immeasurable and I appreciate their humble approach to teaching safety in terms that employees can relate to in their daily lives, in and out of the workplace. I would recommend OECS to anyone who is struggling with their safety record and looking to improve their workplace for the safety of their employees.
-Stephen Pollok; Plant Manager, Genova Industries | Faribault, MN