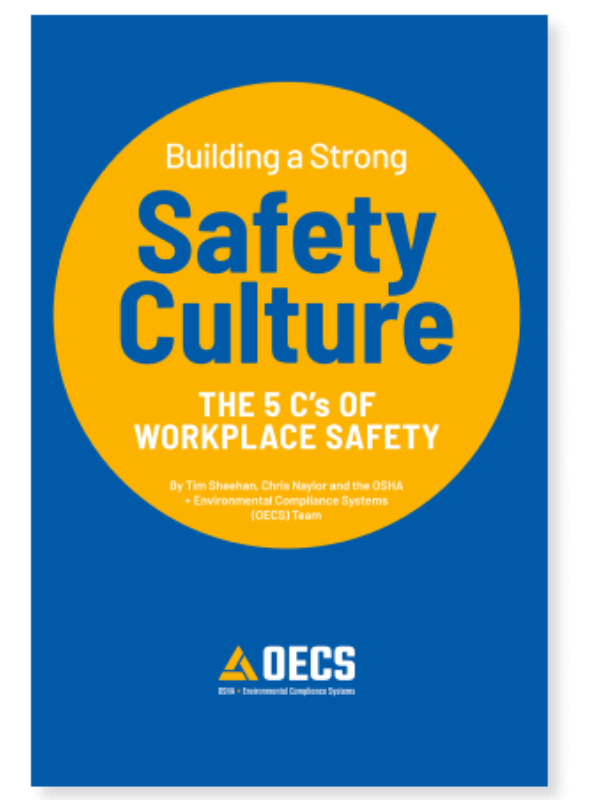 Book: Building a Strong Safety Culture
The 5 C's of Workplace Safety
Have you been designated "safety leader" for your company? Or are you a senior manager seeking a way to significantly improve your company's safety record? Perhaps your company is reeling from a recent safety disaster, and you're looking for a way to make sure something similar never happens again. In that case, we have a workplace safety book for you.
Tim Sheehan and Chris Naylor are proud owners of OSHA+ Environmental Compliance Systems – OECS. Working with their staff of passionate and highly experienced safety professionals, they've formulated a simple safety framework to produce this workplace safety book called The 5 C's of Workplace Safety. This framework has been used successfully to help hundreds of their clients discover a way to think about, engage with and improve the safety of their companies.
In this book on safety culture, you won't find dry regulations and procedures. Instead, you'll find stories and insights OECS has collected over the years. The book demonstrates safety principles and the repercussions of not planning and working toward better safety in every aspect of an operation. That's followed by clear guidance on how to improve safety in your company using the 5 C's of Workplace Safety.
The OECS mission is to inspire strong safety cultures that keep employees returning home safe. The 5 C's of Safety will offer insight and proven principles to help you do just that!
Order Now
Far too many companies and leaders struggle to implement the best tools and practices for daily workplace safety consistently. In this book, Tim and Chris share their expertise, real life examples and stories that make it much quicker and easier to understand and apply. This book is an excellent guide to creating a safety mindset and integrating that into your culture along with the 5 C's. This book is a must-read whether you are an owner, manager or work in the shop or field. Well done OECS.
Safety for most leaders seems like a simple and straightforward value. Creating an environment where you truly capture that value in the hearts and minds of an entire company is the challenge. In this book, the authors provide extremely effective examples and stories which help provide context and relevance to the importance of integrating the 5 C's into your safety culture. This book really hits the mark and I highly recommend it for supervisors, managers and leaders within any organization that values safety and strives to have a strong safety culture.
"Safety First and Always" is one of the core values at Satellite Shelters. As the VP of Human Resources, one of my challenges is to always make sure to keep that value on the forefront of every employee's mind. This book, describing the 5 C's, not only provides a framework to make sure our safety culture is maintained, it also supports that framework with relevant stories. As a long time client of OECS, I can say that they have hit the nail on the head again with a captivating read; which is not easy to do in the safety world!
Book Resources
In the book, Building a Strong Safety Culture – the 5 C's of Workplace Safety, OECS offers to share resources and more information pertinent to certain chapters. Below are valuable links to learn more so that in addition to the book, you have additional workplace safety resources at your disposal.