Earn your osha 30 card
We understand you're busy and want a proven, effective way to comply with OSHA standards. Our OSHA 30-Hour class is designed to give supervisors a broader and deeper understanding of job-related health and safety hazards. When you complete the program, you will earn a DOL (US Dept. of Labor) card. These in-person training sessions will be delivered by experienced trainers who bring years of hands-on experience from the field. The sessions are live, interactive and impactful. Get your questions answered by experts in real-time!
Covered over 4 days
In-person
Taught by an OSHA-Authorized Outreach trainer
Covers 29 CFR 1926 regulations
Training DETAILS
Date: February 28, March 1, 2, 3
Time: 7 AM – 5 PM
Location: Scheel's at 8301 Flying Cloud Dr., Eden Prairie, MN 55344 (Go to Door 6 on the south
side of the building)
Cost: $900
REGISTRATION
To register email Alex at administration@oecscomply.com or call 763.417.9599.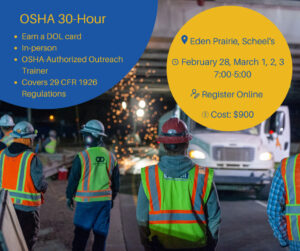 Presented by OECS
OSHA Environmental Compliance Systems (OECS) is the Midwest's leading workplace safety consulting firm. For almost 30 years, OECS has provided the highest-quality consulting services to small and mid-sized manufacturing and construction firms. We implement a proven process that helps our clients obtain their safety goals year after year.