Earn your OSHA 10 Card!
We understand you're busy and want a proven, effective way to comply with OSHA standards. Our OSHA 10-hour class provides a general overview of common job-related health and safety hazards. When you complete the program, you will earn a DOL (US Dept. of Labor) card. This shows OSHA and employers that you've met your OSHA training requirements. These training sessions will be delivered by experienced trainers who bring years of hands-on experience from the field. The sessions are live, interactive and impactful.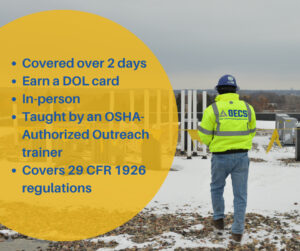 Training DETAILS
Date & Time: February 16, 7 AM- 5 PM: February 17, 7 AM-Noon
Location: Scheel's at 8301 Flying Cloud Dr., Eden Prairie, MN 55344 (Go to Door 6 on the south side of the building)
Cost: $350
REGISTRATION
Please email Alex at administration@oecscomply.com or call 763.417.9599 to register!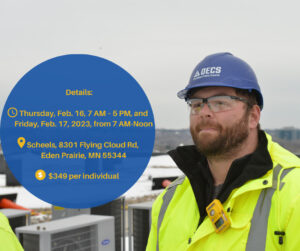 Presented by OECS
OSHA Environmental Compliance Systems (OECS) is the Midwest's leading workplace safety consulting firm. For almost 30 years, OECS has provided the highest-quality consulting services to small and mid-sized manufacturing and construction firms. We implement a proven process that helps our clients obtain their safety goals year after year.