How to Build a Strong Safety Culture in the Workplace
The OECS mission is "To inspire strong safety cultures." After almost 30 years in the safety business, we've learned that leadership drives culture and culture drives safety. A strong safety culture can positively impact everything – productivity, recruitment, retention, morale, customer satisfaction – and the bottom line.
We've witnessed this storyline playing out time and time again, across hundreds of clients in Minnesota and the surrounding states, in both manufacturing and construction: Without committed, engaged leadership, the prospects of building and maintaining a strong safety culture are slim, with opportunity to capture the benefits gone.
buildING a strong safety culture
A strong safety culture is shared throughout the company, from the CEO through the entire organization. Our approach to building a strong safety culture in the workplace includes utilizing key concepts from the book, Safety 24/7, by Greg Anderson. Our clients love how his approach simplifies the concepts you'll need to bring your safety culture to the next level, including advice on:
Defining safety culture and how you can shape it in your company
Gaining management buy-in to be leaders in safety culture development
Identifying and addressing the common barriers of a safety culture that are difficult to overcome
Moving from compliance to a core value and belief in safety culture
Help accelerate your company's commitment to safety. It's our mission to inspire. Let's talk more about how we can help your company.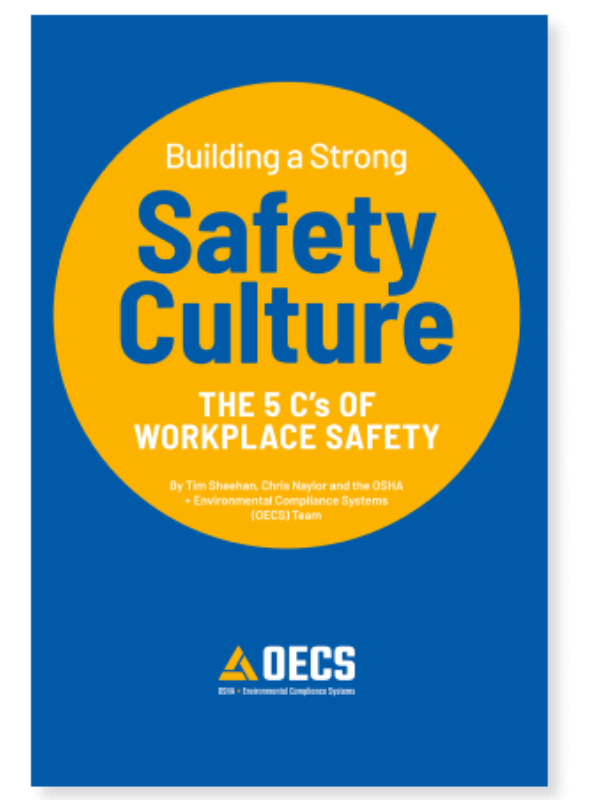 The 5 C's of Workplace Safety
Tim Sheehan and Chris Naylor, co-owners of OECS, worked with their experienced staff to formulate a safety framework detailing how to build a safety culture and mindset in the workplace for a book titled The 5 C's of Workplace Safety. The framework of the material in the book has been used to help hundreds of our clients discover how to think about safety, and how they can improve and engage with their workplace safety culture.
Learn More
OECS has been the backbone to our company's success for over 20 years. They are a wealth of knowledge, collecting information and experiences from various types of industries into one resource. The safety consultants are bright, dedicated, and up-to-date on all safety rules and regulations. They go the extra mile to advise and educate our company to provide a safe, working environment for all our employees. They put a new spin on repetitious annual safety trainings to inform, engage, and create awareness. There is no one else we would rather work with. These consultants are not just safety consultants; they are part of the Saunders work family. Thank you OECS for keeping our employees safe!
OECS Consultants has been our safety partner for several years now, and during this time, we've worked together to build a powerful safety culture and make our workplace safer. They've always had the safety expertise we've needed, proving to be a good investment. We continue to strive to improve safety and create buy-in from our employees. Having OCES onsite, whether on national projects, local onsite project inspections or conducting quarterly workforce meetings, has changed our EMR and solidified our successful partnership in safety!
Want Help Creating a Culture of Safety?
Contact OECS for timely and professional solutions to workplace safety questions, issues, hazards, or concerns. Our safety consultants are available 24/7 to ensure your safety needs are met.
Contact Us