EOS Helps Organizations Clarify Direction, Streamline Operations, Build Culture and Achieve Growth
Field-tested at thousands of companies worldwide, the Entrepreneurial Operating System (EOS) has helped companies achieve MORE REVENUE and MORE PROFIT for over a decade, with simultaneously delivering a BETTER BALANCE OF LIFE to company owners and leaders. Discover the transformational framework, tools and EOS Process you need to increase revenue and profit while building a stronger culture of accountability.
The 6 Key Components of Any Business
To move your business from good to great, you must master the 6 components in the EOS Model. Through mastering the 6 components, business owners and leaders can create a compelling vision for the company, align the entire organization, make better decisions faster, solve complex business problems, and put the right people in the right seats.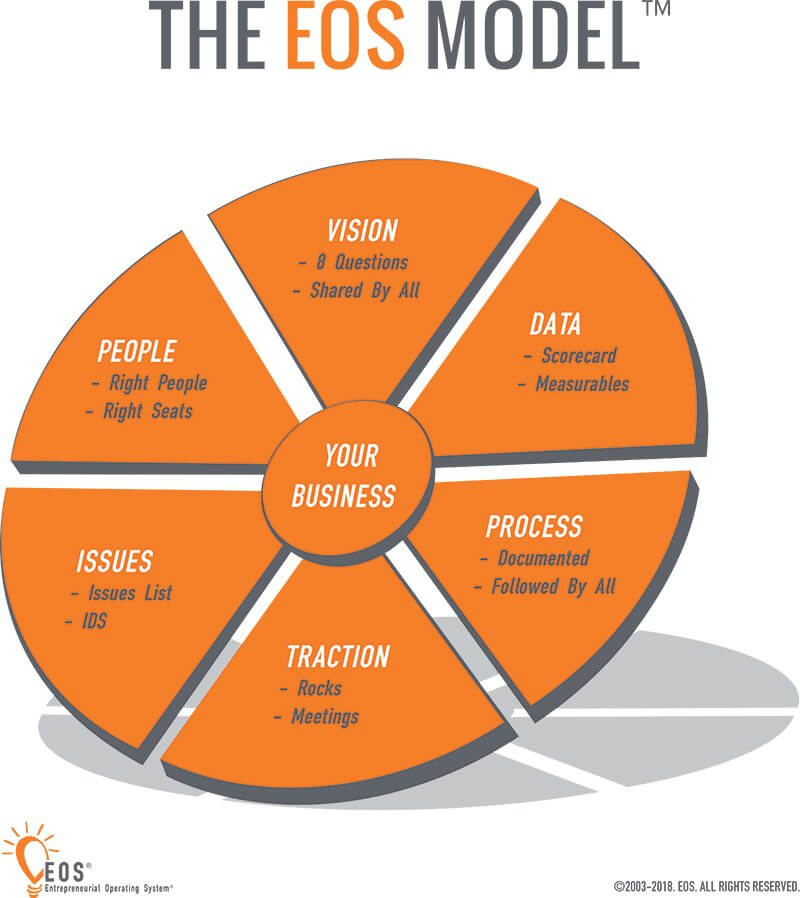 Proven with Thousands of Companies Over the Last Decade
The EOS Process provides a proven way to put all the pieces together, incorporating each of the EOS Tools in the right order to best strengthen your organization. The FREE 90 Minute Meeting is the first step in the EOS Process, offering a chance for you and your leadership team to learn more about the EOS Model and Tools – and the process of implementing it throughout the organization. If the team decides to move forward, then the first step is a Focus Day, which provides tools to clarify who's responsible for what, set priorities, improve communication, learn how to run a great meeting, resolve issues, and track critical numbers. About 30 days later, the team meets for the Vision Building Day to create their Vision/Traction Organizer (V/TO). After the V/TO is complete, the leadership team meets quarterly and annually to integrate new tools into the organization, determine their goals, resolve roadblocks to company growth and health – and ultimately align the entire organization around the right priorities.
Systematic Continuous Improvement
By following our proven process, leaders and their teams can make continual progress toward achieving everything in their vision.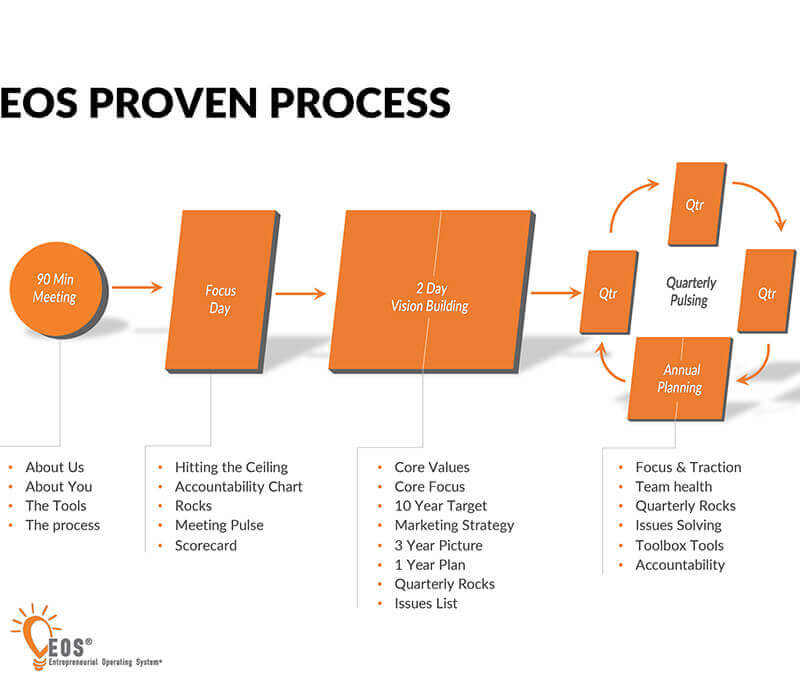 Doran is a company that has experienced tremendous growth in a short amount of time. EOS was instrumental in helping us create our organizational structure and put in place practices for ensuring we continually evolve. Through EOS we were able to crystalize our vision for the near and long term, and successfully roll out EOS companywide in a way that has been truly transformative.
By implementing EOS, we're much more organized, communicate far better, and have a solid company structure to support growth. Teaming up with a passionate expert to execute positive change has accelerated our results! We've been able to make better decisions faster and take advantage of opportunities during the current economic and business environment.
EOS has allowed us to experience record growth and profit with increased employee morale and retention. We've strengthened our business through mastering the 6 Components, using the EOS Tools to create a clear, shared vision, and executing on it with discipline and accountability, while simultaneously working together as a healthier team.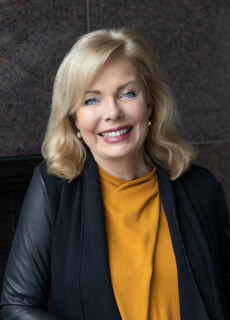 Gain Better Traction
As visionary and owner of OECS, Chris is passionate about workplace safety AND helping leaders and teams optimize business results. For over 25 years, she has provided business coaching services to help build strong cultures and processes that help companies reach higher levels of growth and success. As a Certified EOS Implementer, she has delivered over 800 session days throughout 100+ companies in Minnesota and the surrounding states. Contact Chris to find out more about how to use the EOS system to create a culture of safety that ultimately strengthens bottomline results!