OSHA Compliance Assistance
Be Prepared and Confident at Your Next Workplace Safety Inspection.
OSHA is an important regulatory agency that has your employees' best interests in mind. It can be intimidating when you hear from the Compliance Officer of the Occupational Safety & Health Administration, a part of the United States Department of Labor. Fortunately, our OSHA compliance assistance can help. As your advocate during workplace inspections, trust our OSHA regulations experts provide assistance and impart the confidence you may need. We'll answer your questions, create a preparation plan, and guide you through the initial or follow-up OSHA inspection.
When you take advantage of our OSHA assistance services, you can:
Reduce the risk of steep fines
Add predictability to your workdays
Gain confidence during inspections
Make changes that reduce insurance rates
Prevent unexpected accidents
OSHA Inspection Checklist
An OSHA inspection covers many critical areas of safety, so constant monitoring and process improvements are essential for any business. While there is no substitute for a thorough safety audit when preparing for your next inspection, you can reduce your chances of a violation by remaining vigilant at work, always being mindful of the factors OSHA takes into account during an inspection and making changes as you notice risks around the workplace.
The items that an inspector will address during their visit largely depend on your industry, but there are some basic areas of safety that every employee should take into account on a daily basis. OSHA's Small Business Handbook outlines every area a business owner or safety manager should be tracking during a self-inspection. While not an all-inclusive list, this OSHA safety checklist covers some of the most important safety categories:
Processing, receiving, shipping and storage
Building and grounds conditions
Housekeeping program
Electricity
Lighting
Heating and ventilation
Machinery
Personnel
Hand and power tools
Chemicals
Fire prevention
Maintenance
PPE
Transportation
First aid program/supplies
Evacuation plan
In addition to these topics, OSHA also encourages business owners to implement recordkeeping. Keeping track of incidents and accidents as they occur provides evidence to OSHA that you have taken steps to prioritize safety — an ideal starting point for any surprise inspection.
Making a habit of recordkeeping is the first step in developing a cultural shift towards safety at your workplace. Reach out to our team if you ever have any questions improving your preparedness for your next inspection.
When you take advantage of our OSHA assistance services, you can:
Reduce the risk of steep fines
Add predictability to your workdays
Gain confidence during inspections
Make changes that reduce insurance rates
Prevent unexpected accidents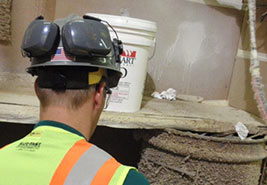 OSHA inspections can be nerve-racking experiences for even the best prepared companies. OECS consultants provide valuable assistance during an OSHA compliance inspection. Our safety consultants will be present during the initial walk through and serve as your "onsite advocate" to answer the OSHA inspector's questions and walk you through the inspection process. We are there from start to finish – from the time OSHA shows up on site to the closing conference.
Do you wonder if you are in compliance or how far you are from compliance? Do you want to know how you would "weather" an OSHA audit? Many companies use our safety audit system to see where they are from a compliance standpoint. We simplify safety compliance by providing a confidential, objective review of your entire company operations ranging from identifying physical hazards to reviewing written programs. Then, we follow up with OSHA training as needed.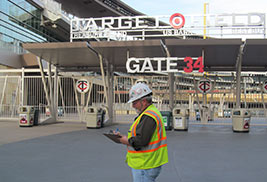 Has your company received a notice of violation by OSHA? You need somewhere to turn that is reliable, responsible, and can meet the abatement deadline. We can help you resolve your citations or violations. According to OSHA's website, one citation penalty can cost as much as $7,000 and repeated or willful violations can cost a company up to $126,000!
Have you violated an OSHA standard? Wondering if citations are legitimate? Considering fighting citations in a grey area? Ask our professional safety staff to evaluate your citations and participate in the informal conference to abate the citation, reduce the seriousness, and/or reduce the amount of the dollar penalty. It's worth more than just your time to contact OECS prior to the return of the OSHA inspector.
Top 10 most frequent OSHA cited workplace standards:
Fall protection (C)
Hazard communication
Scaffolding (C)
Respiratory protection
Powered industrial trucks
Lockout/tagout
Ladders (C)
Electrical: wiring
Machine guarding
Electrical: systems design
C = Construction standard *
OSHA Assistance to Avoid Citations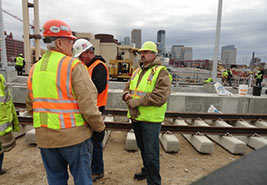 Be more confident in your workplace before the OSHA inspector shows up. As an employer, it's important that you provide a safe workplace for your employees and for them to know that you have their safety in mind – because without them, you wouldn't be where you are today. It's safe to say you are an expert in your growing industry, but it's impossible to be an expert in every industry. Let the workplace safety professionals at OECS focus on the safety of your team and facility so you don't experience devastating setbacks due to unknown hazards that we can resolve.
Keeping Up with Evolving OSHA Regulations
Just like society, technology, and even the weather, federal standards are constantly evolving. What was classified as safe in 1971, the year OSHA was founded, may not be classified as safe anymore. In order to improve safety in the workplace, the regulations need to continually adjust to fit current demands. Our OSHA compliance experts are knowledgeable in all of the new regulations to ensure you don't miss any regulations, new or old, put in place to protect your workers. Contact OECS to learn more.